Description
We are the main innovators in this platform. Our team bent over backwards to acquire one of the very first Blackwings in North America, serial number 0026. We started working the day the car arrived, and have been developing a proper tuning solution for these cars over the last year. Our flagship CT4-V Blackwing already has 10,000 miles, 180 dyno pulls and 675 whp. It has been the drag strip seven times, racing in events from Florida to Texas to Ohio.
The Delta Control Module (DCM) gives you the ability to modify your CT4-V Blackwing vehicle, by working in conjunction with the factory ECM and utilizes data from sensors to modify that data outputted to the ECM. If you return your car to stock, you can simply unplug the DCM and the ECM will function just as it did from the factory.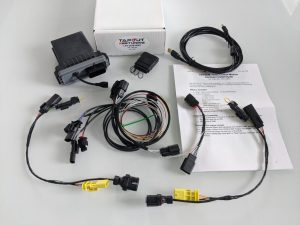 Tapout tune includes a calibration for your DCM that matches your car, fuel octane and modifications. Our custom tunes have been developed on our in-house dynamometer, tested at the track and validated over many thousands of miles on the street in all types of weather conditions. Edits should not be required, but if requested, they will be provided at no charge for the first 30 days after purchase.
Optional monthly tuning subscription gives you access to our lead tuner, including data scan review, calibration edits, diagnostics and troubleshooting, after the first 30 days. May be cancelled at any time.
HP Tuners will give you a way to data scan the car and check DTCs via your Windows based laptop or tablet. [Blackwing customers will only need the MVPI with 0 credits for $398.98. They will be using this product solely as a scan tool and to check DTCs, so don't even discuss reading, writing or editing files.]
Tapout DTC Assassin™ will clear any ECM generated DTCs that you might encounter during installation or at some point down the road.
Aftermarket spark plugs are not required at White Belt Level, since we are running less boost and more ignition timing advance than a comparably modded ATS-V.
To show our appreciation to all our nation's active military, veterans, first responders and Jiu-Jitsu practitioners we are offering a $100 discount on Remote Tune, Remote Tune Plus, and 20% off any of our monthly Tuning and Support subscriptions.
For service members, please send a copy of your driver's license if it indicates veteran or your DD-214 to Sales@TapoutTuning.com. For first responders, please send a copy of your ID. And for Jiu-Jitsu practitioners, email us a picture of you training or competing in Jiu-Jitsu. We will respond with your special discount code.

Will the air filters, ported throttle body, downpipes and other bolt-ons add power to my CT4-V Blackwing?
Bolt-ons do not typically increase horsepower for untuned CT4-V Blackwings, since the ECMs are torque based. If you install something that helps the engine to flow more air, the ECM just commands a little less boost, and power output remains the same. This is why all our CT4-V Blackwing Performance Packages include both parts and tuning.
Can I run E85 in my CT4-V Blackwing?
The CT4-V Blackwing has no an alcohol content sensor onboard, so the ECM cannot detect alcohol content. However, the car does have wideband oxygen sensors on both banks in the primary locations. If you add ethanol to your tank, the widebands will sense the mixture change and the ECM will increase short and eventually long-term fuel trims (STFTs and LTFTs). Almost instantaneously, your fueling will be right on the money. However, there are a couple drawbacks to running ethanol fuel blends in these cars without proper tuning. First, since the ECM is torque based, it will not produce any more on ethanol fuel blends than it will on pump gas. And second, your LTFTs will peg around 30%, which is typically somewhere between E40 and E50 ethanol content. So we recommend normal high octane pump gas (E0 to E15) for stock CT4-V Blackwings, and those running our White and Blue Belt Performance Packages. We will start taking advantage of the performance benefits of ethanol fuels in the near future when we introduce our Purple and Brown Belt Performance Packages.
What DTCs will my CT4-V Blackwing set when running the Performance Packages?
All tuned CT4-V Blackwings will set DTC P1101 for MAF test out of range from time to time. There are no side effects or Reduced Engine Power mode. This nuisance code just lights the Check Engine Light every now and then, which you'll be able to clear within two seconds using the DTC Assassin™.
If you choose to run resonated downpipes, you'll also set DTC P0420 and 0430 for catalyst inefficiency. There are no side effects or Reduced Engine Power mode. These codes just light the Check Engine Light, which you'll be able to clear within two seconds using the DTC Assassin™.
If you're running the Purple or Brown Belt Performance Package, you will need to limit your ethanol content to somewhere in the E40 to E50 range. Above a certain threshold, your long-term fuel trims (LTFTs) will peg around 30%, and you'll set DTC P0171 and/or P0174.