Description
These Caddy Issues turbochargers are ridiculous! They will make you a legend in your circle of friends and competitors. People will be falling all over themselves to share stories of how fast your car is. Today… right now… these are 700 whp and nine second drop-in replacement turbos. If you want a reliable, fun car that can run nines today and will get faster over time, these are the turbos you need.
Listen to Jorge's car tearing up the street with Caddy Issues turbos and Tapout carbon fiber intake!
These are the turbos running on three of the top four world's quickest and fastest ATS-Vs!
Check out the official Quarter Mile Rankings HERE!
We have thoroughly tested OEM LF3 and LF4 turbochargers, SoCal Stage 1, and Turbobay modified turbos using a DynoJet chassis dynamometer with the industry standard SAE correction factor. OEM LF4 turbochargers can realistically support 590 to 640 whp. SoCal and Turbobay are all within one or two percent of OEM.
26 ATS-Vs with Caddy Issues turbos have delivered dynamometer validated, average SAE numbers of 718 whp since October 2020. The numbers tell the unquestionable truth: these are the most powerful upgrade turbos available for LF4/LF3. Their broad-band torque gains are just as impressive as the power gains. Torque wins races and makes street cars fast, and these turbos turn your car into a tire-shredding torque monster.
Caddy Issues turbochargers spool incredibly fast, with zero apparent lag. Everyone who drives them is astonished at the difference they make (including those familiar with upgraded/high horsepower ATS-Vs). The car becomes a lot more responsive and fun to drive. You will be able to clearly hear the turbos spool. They are loud and intimidating, and can produce far more boost, power, and torque than any other available upgrades.
As shown in the data linked below, NO ATS-Vs with TurboBay, SoCal, or BorgWarner turbos have ever produced 700+ whp (SAE) or run faster than Tapout Tuning powered cars running stock turbos:
Based on these facts, we made the decision to work with Caddy Issues, who developed their own turbochargers, designed to open up the true potential of the LF3/4 engines.

Caddy Issues Turbos Crush Turbobays (same car, mods, fuel, wastegate duty cycle and dyno)
One very interesting situation arose in October 2021 when Chris from North Carolina asked us to install Turbobay turbos on his car. Peak numbers were respectable at 638 whp and 626 wtq using SAE correction factor. Most people would be satisfied with these numbers, but this customer asked what we could do to get his numbers into the stratosphere above 700. We recommended Caddy Issues turbochargers and he gave us the green light. So we swapped turbos and strapped the car back to the dyno. The car never even left our shop. With the same tank of E60 fuel, the same commanded WGDC and on the same dyno, Chris' ATS-V picked up 100 whp in the meat of the powerband at 5,500 rpm! This is what happens when peak boost increases from 24.7 psi (Turbobay) to 28.9 psi (Caddy Issues).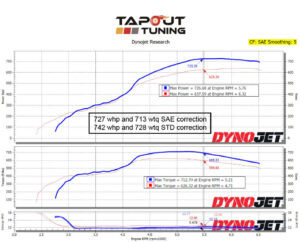 Caddy Issues starts with brand new OEM LF4 turbochargers, so you won't ever need to pay a core charge. Compressor wheel sizes are substantially larger than OEM, so we recommend hand porting your compressor inlets (turbocharger snouts) to match. Or you can purchase our optional (brand new) snouts that are already ported. There are 25 different gaskets and seals required for a turbocharger swap. We provide all new GM parts as an optional package. The compressor inlet (turbocharger snout) gaskets will need to be opened up using a die grinder to match the larger compressor wheels, or you can skip these gaskets and use Loctite 510 instead. We also offer and recommend Lava turbocharger blankets, to be installed in place of, or in addition to the factory heat shields.
Tapout is the leading LF4 tuning company, and the only one with extensive knowledge and experience tuning LF4 engines at 25 to 33 plus psi of boost.
Check out our 713 whp CT4-V Blackwing running Caddy Issues Turbos!

A couple months ago we posted the first ever CT4-V Blackwing dyno chart above 700 whp. Today we reached a high mark running the Brown Belt Performance Package on our flagship car. This time we tuned the car using the soon to be released Tapout Tuning Module (TTM). These modules are more sophisticated than any other devices on the market, giving us the ability for much more precise tuning. You may notice that the new dyno chart looks similar to the 710 whp dyno chart we posted two months ago. However, we now have 85 foot-pounds more torque at 4,000 rpm, and much smoother boost and power curves.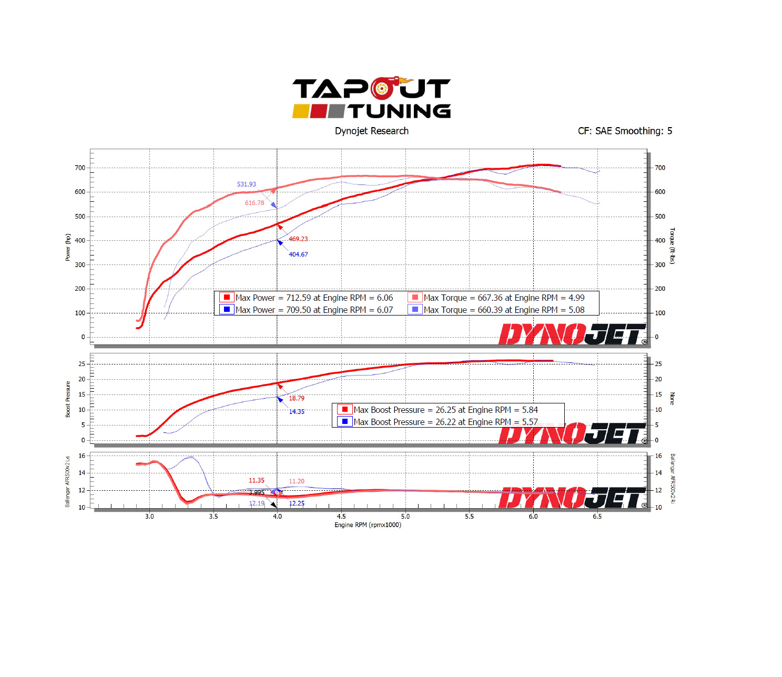 Satisfied Caddy Issues Turbo Customers