Description
If you are looking to maximize the airflow through your LT4 supercharger, Kong Performance has you covered. Their supercharger port designs are based on years of hand porting experience. All of their latest ports were designed, created, tested, and programmed on their 5 axis CNC in house using highly advanced porting software! 40 to 80 rwhp proven gains!!!
Kong's new "Stage X" LT4 Port Upgrade is available now! The "Stage X" is designed for those who are looking to get as much power as they can from the factory supercharger. In addition to their normal CNC porting, the "Stage X" includes additional CNC machining that has been flow simulated, chassis dyno tested, and track proven. On capable engines with supporting mods and fuel, the Kong "Stage X" LT4 can make upwards of 1,000 rwhp. The days of needing to jump straight to a bigger supercharger on this platform are a thing of the past. The "Stage X" turns the stock 1.7L LT4 into a BEAST!
FAST TURN AROUND! Kong typically operates at a 5 to 10 business day turn around time on porting so they can get your supercharger back to you as quickly as possible!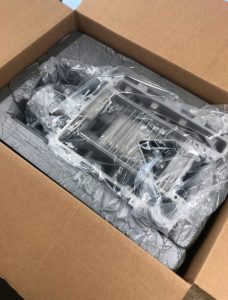 The process is simple:
• Once you checkout, print out your emailed receipt and put that in a box with your supercharger.
• Make sure the supercharger is padded well on all sides. But do not use packing peanuts.
• Be sure to remove all sensors and gaskets please!
• UPS, FedEx or DHL are preferred for shipping to Kong.
If you order the optional supercharger shipping container, it will be shipped to you right away, so you have a custom sized, double wall shipping box with two-piece foam insert. This is going to make packing your supercharger as simple as possible, and keep it safe during transit to Kong Performance for porting.