Description
Our new carbon fiber intake system for the CT4-V Blackwing is a work of art. And it also performs! Internally, this revolutionary new airbox design functions in a proprietary manner that increases airflow and boost, without the ECM being aware of the changes. If you bolt this intake to your completely stock CT4-V Blackwing, you will instantly gain 30 to 50 peak whp. Even more impressive is the 70 plus whp gains you'll have near redline!
These performance improvements take place with no other changes, and no tuning required. Idle, drivability and fuel economy will all remain the same as stock, as long as you stay out of the boost. There are no DTCs or Check Engine light issues. This intake system is safe for any fuel octane from 91 on up. If you're currently running the JB4, you will need to work with us for some custom settings at the time you install the carbon fiber intake.
Coupled with custom JB4 tuning, you can expect to see gains of approximately 100 whp on 93-octane. Colder spark plugs with smaller gaps are required at this level, and when add on our downpipes, you can make even more power!
Installation is simple and can be done with basic hand tools in less than one hour.
2022 CT4V Blackwing M6 on 93-octane: stock (red lines) versus Tapout intake (blue lines) versus intake with Tapout custom JB4 tune (green lines)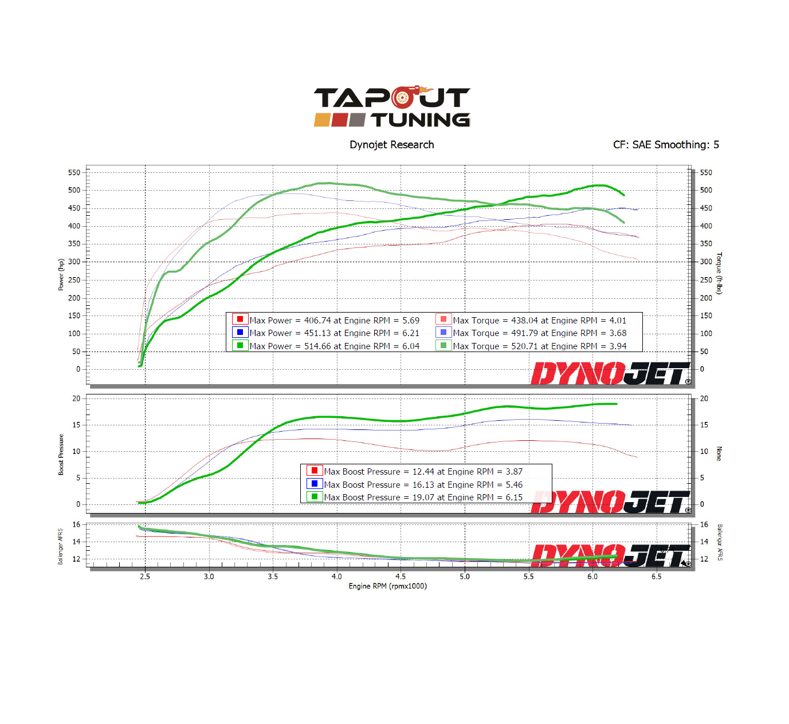 2022 CT4V Blackwing M6 on 93-octane: stock (red lines) versus Tapout intake (blue lines)