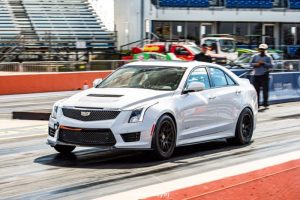 Overall (LF4 powered ATS-V, CTS V-Sport and CT4-V Blackwing)
All power adders and modifications allowed.
All fuels, additives, ethanol blends and methanol injection allowed.
Weight reduction permitted.

Lots of people claim to 'have a nine second ATS-V', but the facts tell a different story. The truth is that approximately 0.30% of all ATS-Vs have actual nine second time slips. Tapout Tunes power 73% of the absolute quickest and fastest ATS-Vs in the quarter mile.
Intake Mods
Fuel Mods
IN
Intake and/or air filters upgrade
OB
Octane boost or race fuel mix
TC
Turbochargers upgrade
EB
Ethanol blend fuel > E15
TB
Throttle body modification or upgrade
MI
Methanol injection
IC
Intercooler upgrade including interchiller or ice box
LP
Low pressure fuel system upgrade
HP
High pressure fuel pump (HPFP) upgrade
FC
Fuel cam upgrade
NO
Nitrous oxide injection
FI
Fuel injectors upgrade
Ignition Mods
Cylinder Head Mods
SP
Spark plugs upgrade
VS
Valve springs upgrade
CH
Cylinder heads upgrade
CS
Camshaft upgrades
Exhaust Mods
Drivetrain Mods
EX
Exhaust system modification
HS
Torque converter upgrade
CL
Clutch upgrade
FD
Differential upgrade and/or final drive gear ratio change
Suspension Mods
Tire Mods
TA
Trailing arms upgrade
DR
Drag radial tires
DS
Drag slick tires
FR
Front runner tires