If you would like to be included in this rankings list
Click Here
.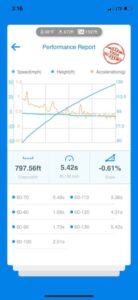 Please email Rankings@TapoutTuning.com with any changes or edits to these rankings.
Also check out our Eighth Mile Rankings, Quarter Mile Rankings and Chassis Dyno Rankings pages
All 60 to 130 mph rankings are based on valid Dragy times (i.e. slope >/= -1.00%) whenever possible.  In cases where valid Dragy times aren't available, we can also use official drag strip quarter mile time slips.  In these instances where all interval elapsed times are valid, we utilize a five point curve fitting algorithm.
Intake Mods
Fuel Mods
IN
Intake and/or air filters upgrade
OB
Octane boost or race fuel mix
TC
Turbochargers upgrade
EB
Ethanol blend fuel > E15
TB
Throttle body modification or upgrade
MI
Methanol injection
IC
Intercooler upgrade including interchiller or ice box
LP
Low pressure fuel system upgrade
HP
High pressure fuel pump (HPFP) upgrade
FC
Fuel cam upgrade
NO
Nitrous oxide injection
FI
Fuel injectors upgrade
Ignition Mods
Cylinder Head Mods
SP
Spark plugs upgrade
VS
Valve springs upgrade
CH
Cylinder heads upgrade
CS
Camshaft upgrades
Exhaust Mods
Drivetrain Mods
EX
Exhaust system modification
HS
Torque converter upgrade
CL
Clutch upgrade
FD
Differential upgrade and/or final drive gear ratio change
Suspension Mods
Tire Mods
TA
Trailing arms upgrade
DR
Drag radial tires
DS
Drag slick tires
FR
Front runner tires