2022 CADILLAC CT4-V BLACKWING 676 WHP TWIN TURBOCHARGED
CT4-V Blackwing Tuning Package Development Continues.  100% OEM drivability aspects have been maintained below 3,500 rpm.  Above 70 to 80% accelerator pedal position, things are starting to get ridiculously FUN!
At WOT in Track mode, the A10 cars upshift between 6,400 and 6,500 rpm, so you're always running between 4,700 and 6,500 rpm. We have significantly modified the powerband between 4,000 and 6,500 rpm to cover both the A10 and M6 cars.
Tuning is nearly complete. We just have a few more details left to resolve. All details of our CT4-V Blackwing Performance Packages will be announced in the near future.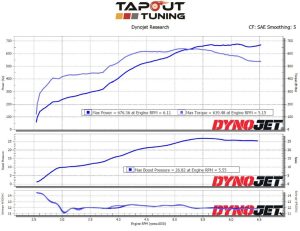 No products were found matching your selection.