1. Check to see if the tuner you're considering has a readily available, published telephone number. If not, that should be a red flag. Tapout Tuning can be reached at (614) 504-6024.
2. Look for a tuner with an in-house dynamometer. The knowledge acquired by having access to an in-house dyno is invaluable. Tapout's DynoJet 224xLC with dual widebands has ATS-Vs from all over North America on the roller every week.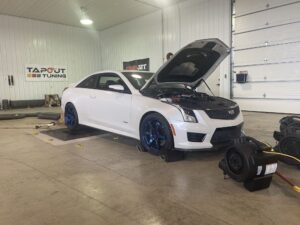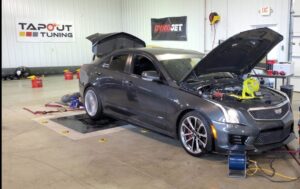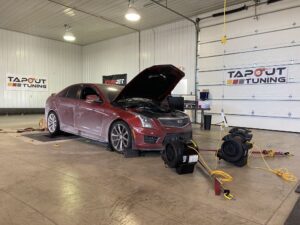 3. Check the official ranking charts for dyno numbers, 60 to 130 mph Dragy times and quarter mile times. Don't be fooled by companies with one or two names on the lists. Look closely to see which tuners produce world class results across the board, on all the charts, with very few mods to all the mods.
4. Check your potential tuner's website to learn what ATS-V products they have brought to the market. Have they reinvested hundreds of thousands of dollars working with manufacturers to develop a top tier ATS-V performance product offering? Tapout currently stocks 85 ATS-V specific products, and we typically maintain same day order fill rates between 95% and 99%.
5. Find out if the tuner you're considering offers a discount for active military, veterans and first responders. Tapout stands with our military and first responders and proudly extends a very strong 20% discount for all tuning services.
6. Ask your potential tuner which big ATS-V race events they are major sponsors for. This is important since it demonstrates reinvestment in the community. Supporting companies and tuners who don't give back hurts us all in the long run. Tapout Tuning is proud to be a major sponsor for the Cadillac Attack race in Florida and V-Racing Invitational in Texas.