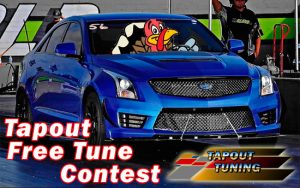 As Thanksgiving quickly approaches we want to give thanks to the ATS-V community. You have allowed us to share our love of fast cars and fueled our desire to make the LF4 platform a serious force to be reckoned with. We're more amped than ever about the ATS-V and we want you to feel that same need for speed that we do!
To help facilitate that Tapout Tuning will be giving away a FREE REMOTE TUNE to one lucky ATS-V owner on Thanksgiving Day. All the winner has to do is purchase HP Tuners if they don't own it. The rules for this contest are simple: Head over the ATS-V Performance Pursuit page and make a post about your most interesting race, mod or performance story related to the ATS-V. The best post we see will be the winner! Just use the hashtag #TurkeyTune so we know you're entering in the contest.
You have until Wednesday November 27th to make your submission; we can't wait to hear those stories!
#TapoutTakeover #ResultsNotInsults #StayTuned #UnderPromiseOverDeliver #TurkeyTune