Description
This plug and play tuner attaches to easy to access sensors in the engine bay and works with your factory ECU tuning to remap your boost, timing, and fueling for optimal performance and reduced turbo lag. See the bottom of this page for a few of our installation tips. 
Installation is very discrete and unlike flash remaps which are quick to install but can never be fully removed with a JB4 the vehicle is never aware it's making more than the factory boost or power levels. Fuel economy during normal driving is unchanged and it's compatible with all driving modes including towing.
Unlike other less advanced systems, the JB4 includes CANbus functionality allowing it to take in critical engine data directly from the ECU for real-time tuning. The data includes pedal position, throttle position, timing advance, fuel trims, air/fuel ratio, engine knock, fuel trims, gear, and much more. Other tuners without CANbus are not able to even monitor this critical engine data no less incorporate it real-time into their tuning algorithms. CANbus allows the JB4 to provide huge power increases with unparalleled power delivery.
The JB4 includes multiple maps including those for 91 octane, 93 octane, factory tuning, VALET mode, E85 mixtures, and unleaded race gas. In addition, it offers boost by gear settings to improve launches, the ability to read and delete fault codes, and much more. The JB4 is made in the USA and includes a 5-year warranty.
Wirelessly connect the JB4 for the Cadillac CT4/CT5 to your Bluetooth 4.0 compatible iOS and Android device via the JB4 Mobile connect kit, or to your Windows laptop with the BMS data cable. Both options allow you to record and analyze vehicle and tuning data, change JB4 performance maps, and update JB4 firmware as we release free newer versions with updates, more powerful maps, and new features under development. Separate JB4 Mobile app purchase also required.
We include four separate calibration maps, ranging from approximately 440 to 515 whp.
*JB4 cell phone app is available for $27.99 on all smart devices*
*This product is for competition and closed course use only.  Not available for sale or use in California*

Check out our Dyno Chart below for our in-house dyno testing with the JB4 Tuner: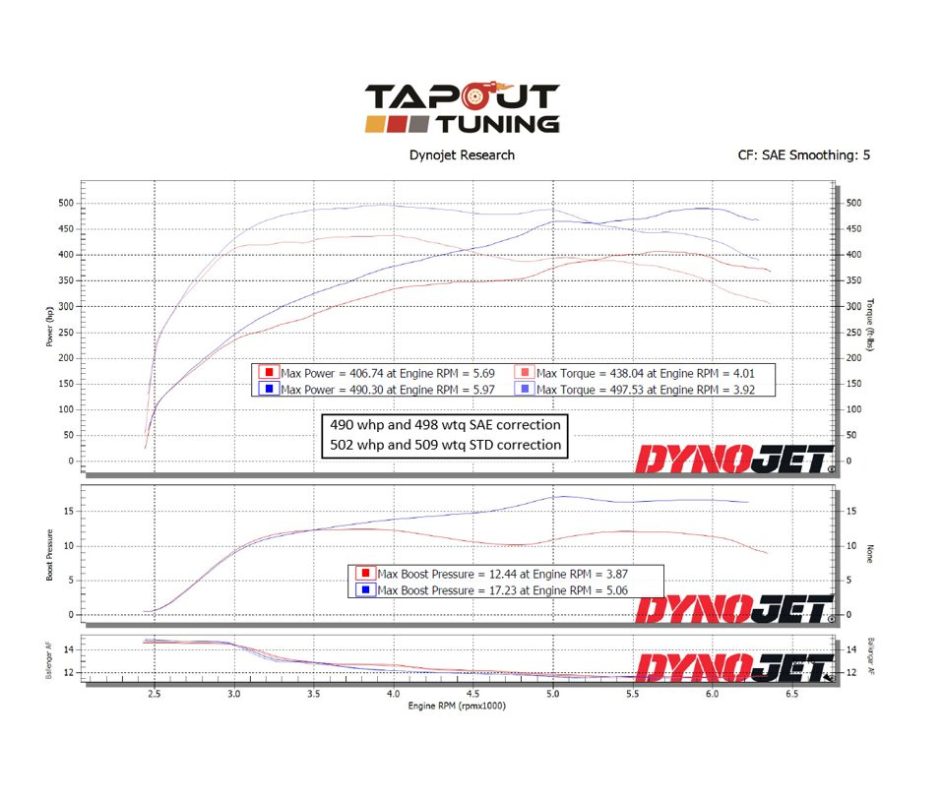 Check out JB4s in-house CT5 Dyno Chart: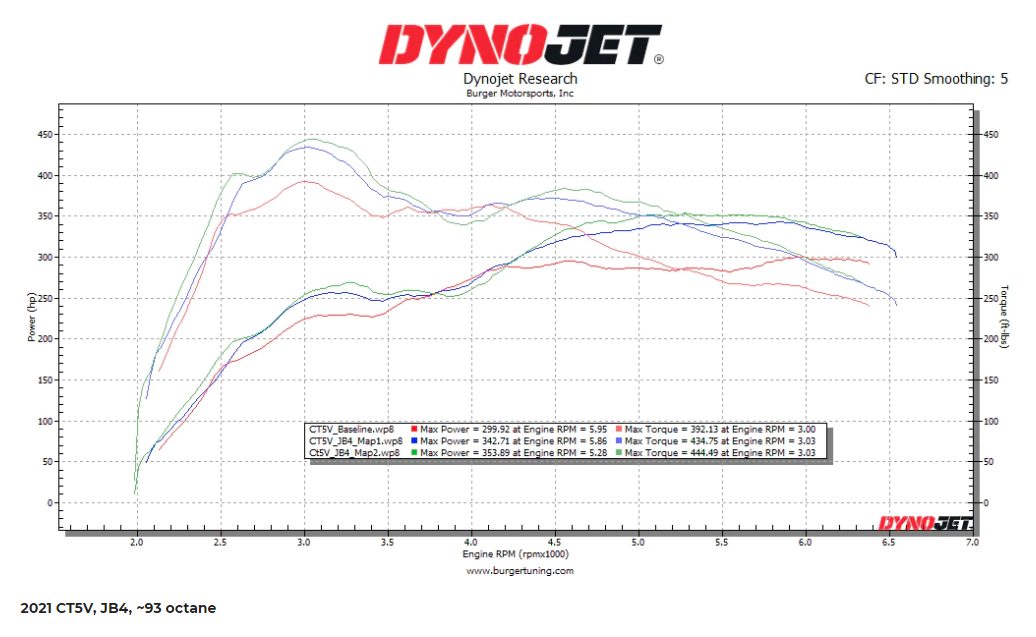 Installation:
You will need to connect to three sensors under the hood.  One is for the driver side MAF sensor, which is mounted in the intake system.  The MAP and TMAP sensors are located at the rear of the intake manifold.  For those, you will need to remove the engine cover, then loosen the bolts holding the black plastic vacuum assembly in place.  This will give you access to the MAP and TMAP sensors. 
For the OBD2 connector, you can run the wire through the door jamb for a quick and dirty installation. For a more professional and permanent installation, we remove the wiper cowl, allowing easier access to the firewall.
Feel free to post in the ATS-V | CT4-V Blackwing Performance group on Facebook if you need more help.  Many CT4-V Blackwing owners have already installed these and you may be able to get tips and tricks if needed, even after hours, on the weekend, etc.  If you prefer to speak with someone directly during normal business hours, just give us a call on our office line and ask for Jorge.  He can walk you through the process.
Applications:
2021+ Cadillac CT4 2.0L & 2.7L Turbo
2021+ Cadillac CT5 2.0L & 3.0L Turbo
2022+ Cadillac CT4 Blackwing 3.6L Turbo
*You will need to purchase the JB4 cell phone app. Available for all smart devices.*
6-Cylinder Installation Guide (2022 CT4-V Blackwing)
4-Cylinder Installation Guide (2021+ CT4 2.0L $ 2.7L Turbo / 2021+ CT5 2.0L & 3.0L Turbo)
CT4-V Blackwing: JB4 Tuner