Description
Mace Stage 1 high duration camshafts have been designed to work in conjunction with the factory timing chains and engine components, so you are only required to replace valve springs and retainers. We source these from Australia, then machine them to accommodate the LF4/LF3 vacuum pump. We also regrind the fuel lobe to match our Tapout Fuel Cam. Mace Stage 1 valve spring and retainer sets are recommended with Mace Stage 1 camshafts.
OEM LF4 camshaft specifications: .432/.435" lift with 213/225° duration @ .050" lift
Mace Stage 1 camshaft specifications: .423/.423" lift with 244/244° duration @ .050" lift
Tapout Stage 2 camshaft specifications: .475/.464" lift with 238/247° duration @ .050" lift
Unlike other aftermarket LFx camshaft sets on the market, these include the proper machining required to drive the mechanical vacuum pumps that are specific to the LF4/LF3, and the HPFP lobe has increased lift to increase your HPFP volume by approximately 25%.  All new AC Delco camshaft seals are included.  Fuel system modifications, stronger valve springs and retainers and custom tuning are required with these camshafts.
Do Mace Stage 1 Cams Really Make a Difference?
Well let us tell you about our good friend Paul from Ohio. He was the first ever ATS-V to run nine second quarter mile passes in the new 'True Street' category.  Being he was slightly under the 3,950 pound minimum weight requirement, he actually had to add ballast in his trunk that day to make the record.  But like most of us, Paul always wants a little more.  So our team installed Mace Stage 1 valve springs, titanium retainers and camshafts and strapped this car back on the dyno.  The results turned out to be almost exactly what we expected.  The engine made a little less horsepower and torque below 4,800 rpm.  The power gains started at 5,300 rpm, and kept increasing as engine speed rose.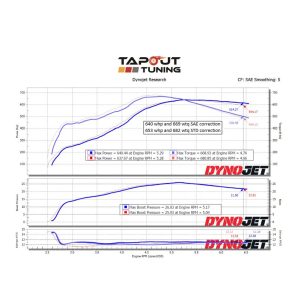 How much were the gains? If you make the common mistake of only considering peak numbers, all you'll notice is the fact that power increased from 638 to 640 whp, which is statistically insignificant. Instead, look the graph at 6,000 rpm and you'll see 10 more whp. At 6,500 the gain was 20 whp. And at 7,000 rpm it's typically 30 whp (although we failed to spin the engine that high on our baseline pull). These are significant gains that can be felt driving the car, and will produce real results both on the street and at the track.
But wait a minute? Does this mean the car is now slower, since it has less bottom end power than it did before? Not at all. Once you consider the fact that the engine speed is nearly always above 5,500 rpm at WOT, you realize that any time you're at full throttle with these cams, your engine will now be producing more power!
Mace Stage 1 Camshafts can be installed in both LF4 and LF3 engines. 
We recommend several special tools for your camshaft swap, all of which are readily available online.
EN-48313   timing chain retention tool (left side)
EN-49982   timing chain retention tool (right side)
EN-39313   spark plug port adapter
EN-46106   flywheel holding tool
EN-46110   valve spring compressor tool
Installation Instructions: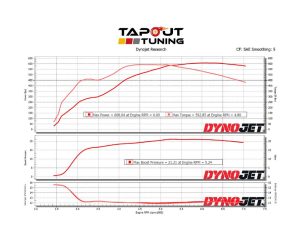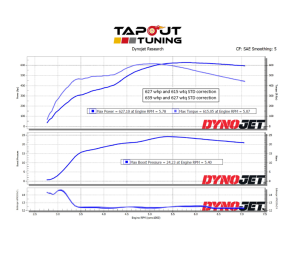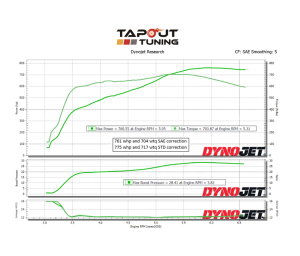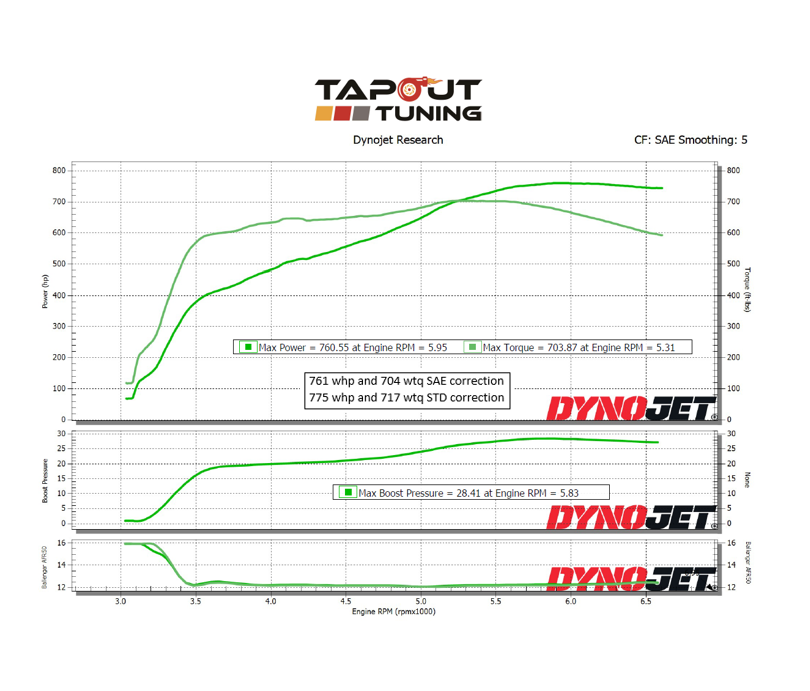 WARNING: This is a RACE ONLY product manufactured and sold for installation on vehicles to be used solely for competition purposes. Once this part is installed, the vehicle may never be used, or registered or licensed for use, on a public road or highway. If you install this part on your vehicle and use the vehicle on a public road or highway, you will violate the Clean Air Act 203(a)(3), 42 U.S.C, 7522(a)(3) and may be subject to personal civil or criminal liability, including fines of up to $4,819 per day. Not for sale or use in California.
Idle sound of our cams