Description
The CTS-V Sport, XTS-V Sport and ATS-V intercooler is a sealed system with total capacity of 3.3 quarts. Any air pocket that reaches the intercooler pump will cause it to shut off after five seconds, rendering your intercooler worthless. This can create an unsafe scenario for a turbocharged car, especially when boost is turned up via an aftermarket tune. When the intercooler pump is off, manifold air temperature (MAT) skyrockets under boost. The ECM will respond by reducing target boost, pulling ignition timing advance and closing the throttle. The factory system doesn't have any type of reservoir, which leaves no convenient way to fill and bleed the system. Cadillac dealerships are supposed to have special equipment do properly fill and bleed these intercoolers, but many don't. And hardly any dealerships have the knowledge and experience required to work on these systems. This is why we created the Tapout intercooler fill/bleed kit, which is easily installed and provides everything needed to properly fill and bleed your CTS-V Sport, XTS-V Sport or ATS-V intercooler system.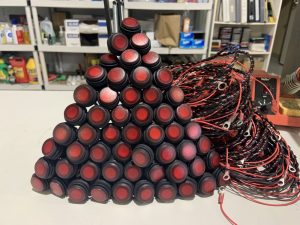 For installation, one of your factory intercooler hoses will need to be shortened and partially replaced with a special automotive grade clear hose.  This allows you to see when the intercooler pump is running, whether fluid is flowing and if air bubbles are present in the lines.  An illuminated switch will be added to your underhood fusebox so you can easily cycle the power to the intercooler pump.  A large translucent funnel with stopper are also provided.  These will be used to fill and bleed the system while the intercooler pump power is being cycled.
This kit includes a large translucent funnel with stopper, heater hose, dowel rod, special automotive grade clear hose, barb coupler, two hose clamps with extended tail, illuminated switch, fuse tap, fuse, custom manufactured wiring harness and detailed installation instructions.

We always check intercooler performance before adding boost on every car we tune. Approximately 25% of ATS-Vs have a completely non-functional intercooler, and another 25% have intercoolers that seem to work fine at stock boost levels, but need bled and filled in order to keep up with higher boost levels.
Note: Lighted switch color may vary, depending on manufacturer availability.