Paul came to us after having his ATS-V tuned by a well-known competitor. He went to a local dyno to see what kind of numbers he was making after their tune and found that his ATS-V was peaking at dangerous levels of boost and running far leaner than it should have been. He brought this up with his original tuner but was disappointed when they gave a two-sentence response and didn't acknowledge the fact his engine was in serious danger.
A Tapout Tune can be completed anywhere in the world so when Paul (Florida) reached out to us with his  concerns we immediately began working on a remote tune. After he completed his first data log we found all kinds of red flags in his KR (knock retard) table and made Paul aware of the situation. "Scott answered every one of my questions and worked out all the kinks" he said. At Tapout we want to make sure each customer completely understands what we are doing, and our logic behind it. The more each customer knows, the better informed they are down the road as they continue to make modifications.
Competitive Tune Average Knock Retard                         Tapout Tune Average Knock Retard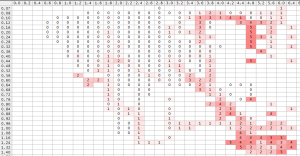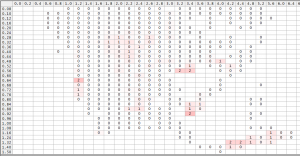 After multiple iterations and several tune revisions, Paul's ATS-V runs smoother, responds better, and most importantly, his engine is no longer in any danger. He also let us know he will be ordering colder plugs and will be working with Tapout Tuning again as he adds more mods to the car. At Tapout we're here to make more power, safely!