This weekend Tapout cars were on the attack at the Cadillac Attack event in Orlando, Florida. Five Tapout tuned cars showed up at the event and all five set new personal best times!
John Kelly ran 11.316 @ 119.49 mph, earning 8th place in the Modified Category.
Brandon Downhour ran 11.244 @ 123.02 mph on stock tires, qualifying him for 4th place in the rankings.
Robbie Kern ran 11.131 @ 122.58 mph for 2nd place.  It should be noted that Tapout tuned cars now hold six of the top twelve spots in the Modified division.
Jorge Munoz ran 10.881 @ 125.48 mph, with octane boost, weight reduction and tune.  He has become the first person to be listed on all three rankings charts (Stock, Modified and Anything Goes) simultaneously.
Justin Adams and Justin Meador ran 10.802 @ 127.35 mph, solidifying their 6th place spot in the Anything Goes category.
Of course, the finals came down to Tapout versus Tapout in this epic match-up between Jorge and the Justin's in what turned out to be the fastest ATS-V duel in history.
These records don't lie. It's a #TapoutTakeover.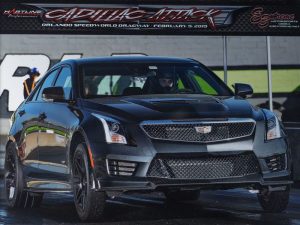 Photo by Travis Weathers