Steven from Ohio originally chose to work with one of our competitors. However, things got expensive quickly when his stock turbos destroyed themselves within just a couple weeks. He replaced the turbos with some aftermarket ones and the same thing happened less than two weeks later. This time one of the impellers went through the engine and completely destroyed everything in it's path.
Our team offered to help and took the car in. We have tuned hundreds of these cars worldwide, and have never seen turbos come unglued like this. When we pulled the tune, we noticed the previous tuner had completely maxed out the turbocharger wastegate duty cycle table. If you don't know how to tune with finesse and turn all the knobs up as far as they will go, you can actually spin the turbos fast enough to destroy themselves.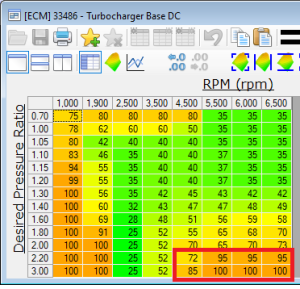 We replaced the long block assembly and switched to genuine Caddy Issues turbos. After the engine was properly broken in, we spent a day on our dyno working up one of our famous calibrations. As you can see, boost and power are now smooth all the way to 7,000 rpm. Peak power was 691 whp, still running OEM compressor inlets.