When I initially decided to purchase downpipes I did a lot of research on the various options that were on the market for the LF4. I quickly found that the Tapout Tuning set along with the tune was highly praised, respected and recommended by many other ATS-V owners. This made my decision easy, so I purchased the set along with the Intercooler Fill/Bleed, RR12S Spark Plugs and Remote Tune package.
As soon as i confirmed my order, Scott Cook immediately reached out to me regarding next steps and what to expect. He did an excellent job of explaining the process as well as answering the many questions I had. After receiving the products within one week of ordering, I installed everything and began the remote tuning process. Scott and his team made me feel as if I were their only customer because of how responsive and supportive they were (clearly I was not their only customer).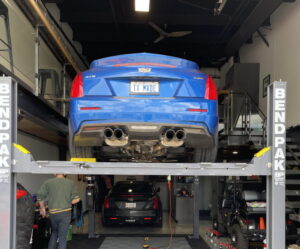 The V has never felt more alive or sounded better. Everywhere I go, people ask about the setup because they are genuinely impressed with the sound and performance. I couldn't be happier with my purchase or the service I received. Tapout Tuning is a very respectable company/brand and I will gladly purchase products from them in the future. 10/10 would recommend. Not to mention, the car holds it own in Mexico… I cant say it enough, Thank you!