I just got my car back from Scott and the fellas at Tapout.  My car was completely stock, with absolutely nothing done to it before they got their hands on it.  I went to them to get their Purple Belt Performance Package along with their upgraded Carbon fiber driveshaft and also stepped it up to their Mace Stage 1 cams with upgraded springs and retainers set to support my full E85 set-up!  I got everything I could to make this thing eat up just about anything out there and let me tell you.  Wow..oh wow!!!
This thing is a complete animal now!  The sheer power and torque this thing makes now is insane.  It puts a smile on my face from ear to ear every t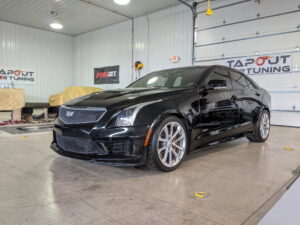 ime, and I can't help to have fun with it every time I get the chance.  It's crazy to think that this thing is this powerful with the stock factory turbos!!!  The tune is so crisp and smooth I can't see feel or see anything bad from it.  I monitor my A/R's via wideband gauge and its perfect even on pump gas!  Scott truly is the definition of an awesome person hands down!  Super nice guy that gives u all the tips and advice on what to look for, what to help you to get better at driving these cars, and overall his impeccable attention to detail to his work is amazing!
I had an amazing time visiting them, meeting everyone seeing the car in action in person, seeing my final HP numbers in person.  It truly was a dream come true for me, and was the best experience for me and my car.  How cool is to say to all your friends, I had lunch with the owner/ tuner Scott, technicians Jorge and Bob, and customer service representative Michael when we took a break from tuning midday!??  Yea I'd say my trip to Tapout Tuning was an awesome success and the best experience me and my car had!  I will never take or let anyone touch my car other then the team at Tapout.  Thanks Tapout Tuning!!!