After losing faith in the quality of work performed by my dealer's performance shop, I started to question the safety characteristics of my dyno tune. Knowing several friends that had their ATS-V's tuned by Tapout, I reached out Scott with my concerns. Before purchasing a remote tune, Scott asked me to send him a copy of my tune and a few logs. Upon reviewing, Scott noted several issues, two of which were alarming.
First, the ECM was not reacting to throttle input appropriately. The screenshot below illustrates a full-throttle attempt 33 mph. However, the ECM didn't open the throttle to 100% until the car hit 58 mph.

Next, and of great concern to me, the previous tuner completely disabled the knock retard and intercooler protections as illustrated below.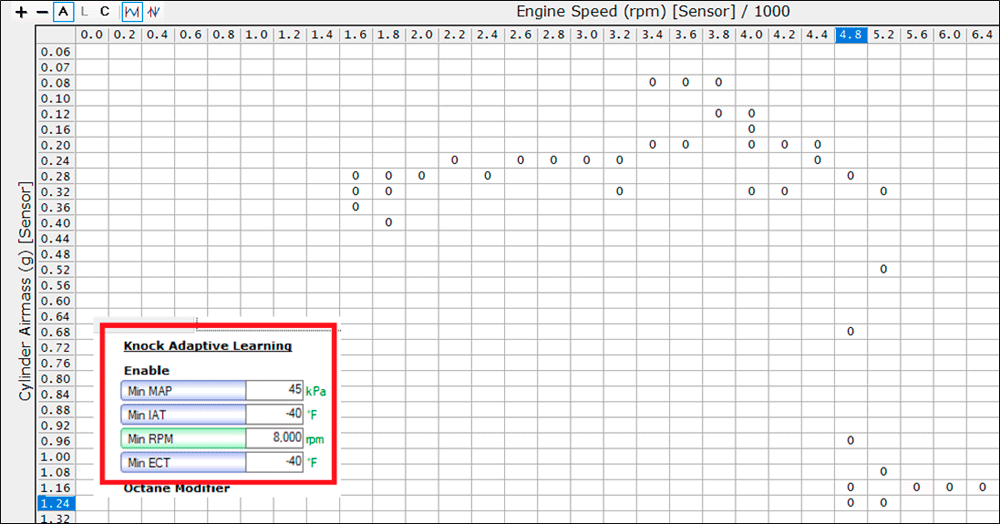 Knowing that my car was not adequately protected, I had hesitations taking it to the track, let alone driving it at all. I immediately decided that the car needed a retune with the safety of the engine being my primary concern.
Within about two hours of purchasing my remote tune, Scott sent me the initial baseline tune. Over one week, I received a total of three tunes that not only left the knock and intercooler protections in place. I felt the increased performance and responsiveness. Additionally, the shift points were dialed in, and my desire to drive the car was at an all-time high.
When Scott announced the introduction of two new features, Lean Cruise Mode and the ability to bypass Cadillac's max boost limit at startup. I reached back out, and within minutes, I received an updated tune file. I'll let the log speak for itself. The following screenshot illustrates that at WOT, the air/fuel ratio is within one to two percent of perfect across the board using 93 octane from Costco.

Getting my car retuned by Tapout was by far the investment that I put in my vehicle. And believe me, there's been a lot of money put into this thing. If you're new the ATS-V or have a tune from another company, do yourself a favor and send a log file or two over to Scott. You'll be pleasantly surprised with the results and professionalism that Scott and Tapout bring to the table.