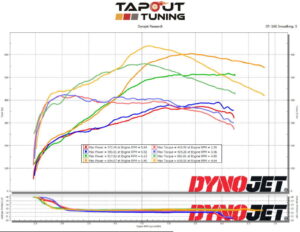 This 2018 ATS-V is a great example of what a Tapout Performance Package do do for your car. This car was bought used, with only a competitors tune, with 10,000k miles on it. In this state the car made 372 whp and 420 wtq on 93 octane.
The owner brought the car to us with the temp tag still on it for a Purple Belt plus performance package and dyno tune. First we flashed the car back to stock to make sure there weren't any issues. The stock car made 391 whp and 424 wtq on 93 octane. So the competitive "tune" the car got made it worse.
After installing the Tapout Purple Belt performance package the car got 518 whp and 561 wtq on 93 octane. Changing to E42 and updating the tune it achieved 569 whp and 575 wtq. Finally making 605 whp and 640 wtq on E56. All of this power is made while keeping the safeties in place.