Description
We utilize the best processes and source components from top North American suppliers for Tapout downpipes that are made right here in the U.S.A. Constructed from real, high grade 304 stainless steel, we are so confident in our quality that we are offering a twelve-month warranty against cracks and failures. Made in the USA.

Fitment is as good as OEM, whether you have an A10 or M6 transmission. These downpipes do not make contact with your transmission or cooling lines. The crossover/balance pipe is located higher than on other brands, slotting it nicely between the wiring harness on the engine block and the transmission cooler line. All four oxygen sensor bungs are correctly located, so your wires do not need to be stretched or extended. Our design also provides the same ground clearance as stock, and there won't be issues even if you lower your car.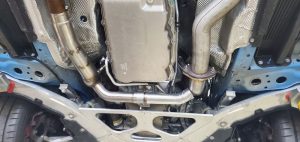 Thanks to dual expansion chamber resonators or catalytic converters (depending on the option you select) and full two inch crossover/balance pipe, these downpipes will sound great, regardless of how the rest of your exhaust system is configured. Our resonated pipes do not contain any dense packing material to restrict your horsepower, airflow and sound. There is no rasp or drone. Instead of using a double slip fit crossover that's prone to leaking, we include a proper band clamp for complete sealing.
Without custom tuning, Tapout downpipes can still add a little bit more power. However, where they really shine is by making your exhaust sound louder, meaner and better than it already does. Resonated can be rowdy in Track mode with the active exhaust valves open. In Touring mode with the valves closed, you'll barely notice a difference. EPA Catted still improves the sound quality and raises volume over stock, but by approximately half as much.
Both resonated and EPA catted pipes will set DTC P0420 and P0430, but these codes don't cause any drivability or other issues.  You can easily clear these codes in a few seconds using a DTC Assassin™ , Aeroforce Scan Gauge or JB4.  The best possible tuning solution for these downpipes is our Tapout Remote Tune.  With proper ECM tuning, you will retain excellent idle and drivability, maximize your power gains and experience no Check Engine light.
Other guys advertise 'made in U.S.A.', but that doesn't do much good when they start with ultra thin Chinese steel. Our downpipes are proudly manufactured in North Carolina, using real stainless steel produced in North America. Note: OEM catalytic converters weigh 23 pounds. Our catless downpipes reduce this by nearly 50% to only 12 pounds.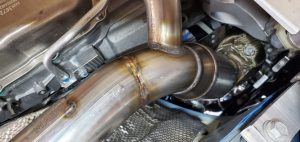 Installation can be done with normal hand tools. Plan for three to six hours if you're laying the garage floor or in your driveway. If you have access to a lift, it will be much easier, and probably take two to four hours. Detailed INSTALLATION INSTRUCTIONS are included for your convenience.
Emissions rules and testing varies by state and even county, and we are not familiar with all the rules in each geographic location.  Some areas just check to see if you have a Check Engine light, and/or plug a scan tool into the diagnostic port to check DTCs and readiness monitors.  Others do a visual inspection.  And some even go as far as putting a sniffer into one of the tailpipes.  You may want to post in some of the various internet groups on Facebook and ask how others handle emissions testing in your area.
Check out our CT4-V Blackwing lighting it up at the track, with Downpipes installed as well as our manufacturing process!
Please note that EPA Catted downpipes were tested in house and verified to not trigger the Check Engine light. However, the light still comes on in many CT4-V Blackwings after a number of miles. Resonated pipes will definitely set DTC P0420 and P0430, but this doesn't cause any drivability or other issues. You will be able to easily resolve the Check Engine light if/when ECM tuning becomes available. In the interim you can try oxygen sensor spoofers or extensions, a DTC Assassin™ or just ignore the light..
WARNING: This is a RACE ONLY product manufactured and sold for installation on vehicles to be used solely for competition purposes. Once this part is installed, the vehicle may never be used, or registered or licensed for use, on a public road or highway. If you install this part on your vehicle and use the vehicle on a public road or highway, you will violate the Clean Air Act 203(a)(3), 42 U.S.C, 7522(a)(3) and may be subject to personal civil or criminal liability, including fines of up to $4,819 per day. Not for sale or use in California.