Description
Ballenger AFT500 – Air Fuel Ratio Monitor Kit with Production Grade NTK Sensor
The Ballenger Motorsports AFR500 makes wideband O2 measurement with top-of-the-line equipment available to enthusiasts and tuners for the first time. Air fuel ratio offers important feedback for tuners to finetune parameters to achieve maximum power and efficiency from their engine.
The AFR500 Air Fuel Ratio Monitor offers a range of true wideband sensors from low cost options to lab grade sensors. The AFR500 is capable of reading air fuel ratio values from 9.0:1 to 16.0:1 (0.62-1.1λ) for standard range or 6.0:1 to 20.0:1 (0.411-1.373λ) for wide range with a resolution of 0.1 to provide excellent resolution in the tuning range of most performance vehicles. The Ballenger Motorsports AFR500 utilizes sensitive Nernst style, pump & reference cell based sensors that can detect a wide range of oxygen concentrations in order to properly interpret air fuel ratio in a variety of combustion environments.
The Ballenger AFR500CAN takes the AFR500V2 industry benchmark performance and adds the convenience of plug and play digital CAN Bus messaging, specifically configured for HP Tuners.
The AFR500 Kit includes:
Large, bright digital display controller (~3.4in x 2.7in x 1.3in)
13 ft or 7ft wiring harness with sealed connections
Bosch LSU 4.9 wideband oxygen sensor (NTK Sensor options available, as well as the Bosch 4.2)
Weld in steel exhaust boss & plug
Mounting Velcro
Comprehensive Installation, troubleshooting & tuning manual
0-5 volt Analog Output Signal
11-28 volt Input Power (24v system capable)
Compatibility with most aftermarket ECUs
Compatibility with popular tuning systems like HPTuners & SCT
NTK production grade sensor
Compatible Fuels:
Gasoline / Petrol (leaded or unleaded)
Alcohol (Methanol)
Ethanol (E100, E85, E20, E15, E10, etc)
Flex Fuels
Compressed Natural Gas (CNG)
Liquefied Petroleum Gas (LPG)
Propane
Many other combustible fuels
Where should my wideband oxygen sensor be installed for best performance?
If you're using a sniffer and going to put the wideband sensor in one of the tailpipes, use an inner one with the exhaust valves open.  You can also install your wideband in place of one of the rear narrow band sensors if you are running catless downpipes and already have the related rear oxygen sensor DTCs disabled in your tune.  The best solution of all is to have an exhaust shop weld an additional bung (included) in place for the wideband.
Mounting the Ballenger AFR500 in the center console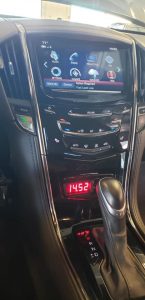 The center cubby next to the cig lighter is the perfect size, however it requires cutting and modification of both the cubby and the area behind it. The center console dismantles easily, but clips can break if you're too rough. Key Step: Pull the shifter out of Park in order to fully remove the center piece (after you pull off the shifter itself).
The part can be replaced if you choose to undo this via GM Parts Direct.
In order for it to log with HPTuners, it needs to be hooked into the ProLink dongle and plugged into the MPV2 OBD device.
Credit to:  Jason Schrontenboer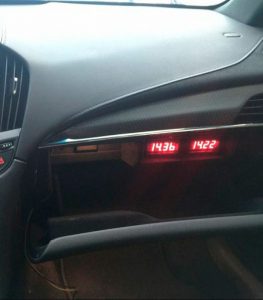 Another mounting alternative – Dual widebands in the glove box.
Credit to: Jason Nipper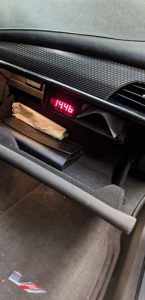 Single glove box mount