Description
Our factory driveshafts are two-piece units with a carrier bearing assembly in the center. They have rubber giubo couplers on both ends, which are used to transmit the torque. These assemblies weigh 31.0 pounds (A8). We have worked with Driveshaft Shop and are proud to bring carbon fiber driveshafts to the ATS-V market. Complete with aluminum couplers and all mounting hardware, these weigh in at 27.7 pounds (A8).
Even though this is not a huge weight difference, carbon fiber driveshaft will be a significant upgrade as it will be lighter and have more torsional strength than the factory steel driveshaft. We will also be eliminating the hanger bearing and the rear rubber giubo couplers, which will increase responsiveness, acceleration and provide a more direct transfer of power to the wheels.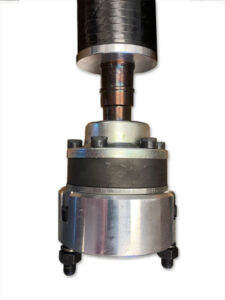 There are some driveshafts on the market using a male/female slider for the extension/compression needed in this configuration and u-joints, whereas we use a dual CV design with our Driveshaft Shop's own CV's, CV mounting components and adapters. There are several reasons for why our manufacturer stopped using the male/female sliders more than ten years ago in all of the one-piece driveshafts they manufacture. The main one is that no matter how tight the tolerances are on these parts they will develop play at high RPM. When Driveshaft Shop started balancing driveshafts in their high-speed machine they realized this and developed their own CV stub designs to use these instead.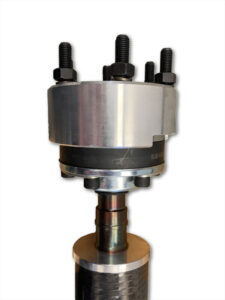 Carbon fiber tubes have more torsional strength than aluminum, therefore it can twist more under load resulting in a smoother transfer of power at launch or between shifts. Aluminum already has much more torsional strength than steel, (about 15° under load versus about 5° for steel) but carbon fiber can go upwards of 30° to 35°. The benefit is much more dramatic in higher horsepower applications. Carbon fiber is also typically quieter.
Doing the math, the 3.5" aluminum should be good to a 150 mph top speed for either auto or manual ATS-Vs. Carbon fiber has a much higher critical speed of approximately 200 mph.
This carbon fiber driveshaft will easily be good to upwards of 1,000 horsepower. Driveshaft Shop doesn't recommend a chromoly shaft because they would be very heavy and have a tendency of transferring harmonics since the material is so much more rigid. This is why the stock shaft requires the rubber giubos and hanger bearing to dampen it.
As for vibration, when you eliminate the ability to dissipate the harmonics that occur in a vehicle it will find the least path of resistance. With a one-piece driveshaft, which is a hollow tube, if there are issues with harmonics, the harmonics will amplify through the tube. This is typically seen with solid or poly mounts being present in the drivetrain as they don't allow for harmonics to dissipate and end up resonating back into the tube. Carbon fiber is much better at dampening as well.
Includes the required adapter plates and hardware.
Installation Tips:

We recommend using blue Loctite on the bolts. The 6 x 10mm bolts that thread into the plates should be torqued to 57 ft-lbs, and the 12mm bolts that go through the adapters should be 70 ft-lbs. As for install, mount the adapter plates first to the transmission (CAPL-9 plate) and differential (CAPL-10 plate). Then it is likely easiest to mount to the transmission side first, as this side plunges, compress it toward the transmission to get the rear CV into the adapter. Tighten the six bolts on each side (cross/star pattern) to the recommended torque.
These driveshafts are covered by a one year warranty against manufacturing defects.