Description
The Tapout Purple Belt performance package provides everything you need to support flex fuel from E0 to E75.  The low pressure (LPFP) and high pressure (fuel cam/internals kit) fuel system upgrades provide the extra fuel system capacity required to support up to E75 fuel.  The E blend of fuel provides the octane necessary for higher boost and ignition timing tunes.  This performance package will normally produce gains of 175 to 225 whp, giving you 590 to 640 peak whp with flex fuel on a DynoJet dyno, using SAE correction and smoothing = 5.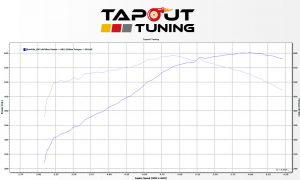 Included Items:
LPFP Stage 1
Gigs Performance Ported Throttle Body
Tapout ATS-V Downpipes
Remote Tune or Remote Tune Plus
Brisk Silver Racing Spark Plugs (6 pack)
Tapout Intercooler Fill/Bleed Kit
Installation
Custom Dyno Tune
Additional Recommendations: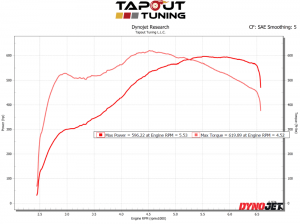 Catless downpipes do not meet emissions requirements and are intended for off road use only.
Non-EPA catted downpipes utilize ultra-high quality and high performance catalytic converters, that balance exhaust flow with effective emissions conversion, and are also for off road use only.
The EPA Catted Downpipes are legal for all states that don't have CARB regulations.
None of our downpipes are available for sale, shipment to or use in California.