I am absolutely thrilled to share my glowing review for Tapout Tuning! I recently had the pleasure of entrusting my CT4-V Blackwing to their expert team, and the entire experience has been nothing short of exceptional.
From the moment I reached out to Tapout Tuning, Scott and his team demonstrated their commitment to customer satisfaction. Their lightning-fast response time was a clear indicator of their dedication to their clients. Not only did they promptly reply, but they also exhibited a thorough understanding of their craft, addressing all my questions with a level of knowledge that left me thoroughly impressed.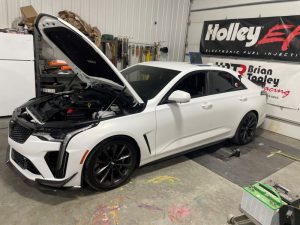 The remote tuning support provided by Tapout Tuning was nothing short of amazing. Despite the physical distance between us, Scott and his team were able to fine-tune my CT4-V Blackwing to perfection. The results speak for themselves – my car is now running better than ever before. The improvements in performance are remarkable, and I owe it all to the expertise of Tapout Tuning.
What truly sets Tapout Tuning apart is their unwavering attention to detail and their commitment to excellence. The parts shipping process was not only swift but also precise, ensuring that every component arrived in pristine condition. The icing on the cake was the meticulously crafted instructions accompanying each part. Throughout the installation of the Blue Belt Performance Package, I never once found myself scratching my head or searching for additional guidance. The instructions were clear, comprehensive, and a testament to Tapout Tuning's dedication to ensuring a seamless customer experience.
In sum, my experience with Tapout Tuning has been beyond outstanding. With their top-tier expertise, remarkable remote tuning capabilities, and impeccable attention to detail, they have transformed my driving experience in ways I could only dream of. Without a doubt, I wholeheartedly give Tapout Tuning an A+ rating. I eagerly anticipate my next visit to their services and can't wait to see what other enhancements they can bring to my CT4-V Blackwing. Kudos to Scott and the entire team at Tapout Tuning – you've gained a customer for life!