Description
Our new carbon fiber airbox lid system for the CT4-V Blackwing is a work of art. And it also performs! Internally, this revolutionary new airbox design functions in a proprietary manner that increases airflow and boost, without the ECM being aware of the changes. If you bolt this intake to your completely stock CT4-V Blackwing, you will instantly gain 30 to 50 peak whp. Even more impressive are the 70 plus whp gains you'll have near redline!
These performance improvements take place with no other changes, and no tuning required. Idle, drivability and fuel economy will all remain the same as stock, as long as you stay out of the boost. This intake system is safe for any fuel octane from 91 on up. If you're currently running the JB4, you will need to work with us for some custom settings at the time you install the carbon fiber intake.  In most cases, you will start with your current JB4 settings, then reduce all numbers in the Ful Bias column by 10%.  In order to check and/or edit the fuel bias settings, click on SETTINGS, then USER ADJUSTMENT.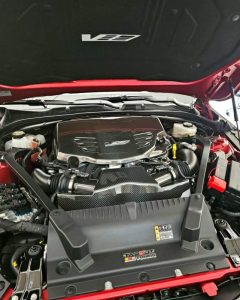 Coupled with custom JB4 tuning, you can expect to see gains of approximately 100 whp on 93-octane. Colder spark plugs with smaller gaps are required at this level, and when add on our downpipes, you can make even more power!
Please note: DTC P1400 is an EGR related DTC that seems to set on some cold starts under certain conditions if you're running the aftermarket intake lid. You can use the JB4 Tuner or the DTC Assassin™ to clear the code. The best possible tuning solution for this intake lid is our Tapout Remote Tune. With proper ECM tuning, you will retain excellent idle and drivability, maximize your power gains and experience no Check Engine light.
You may be wondering what the secret sauce is that makes this intake system produce power gains, when most aftermarket intakes don't add power in most other applications.
Our ECMs are torque based, meaning at WOT the ECM is trying to maintain the factory rated power output of 445 foot-pounds. The ECM has no way to measure power output, so instead it measures mass airflow and interpolates from there. In round numbers, 45 pounds per minute of airflow is equivalent to 445 foot-pounds of torque.
If the ECM detects airflow is higher than target, it will close the electronic throttle, which in turn reduces boost. If the ECM detects airflow is lower than target, it will increase WGDC, which increases boost and power.
On the Tapout CT4-V Blackwing intake system we changed the diameter of the tubes the MAF sensors are mounted in, which changes the airflow detected by the ECM. The ECM then adds boost and power for us. And since the CT4-V Blackwings are equipped from the factory with dual wideband oxygen sensors, the ECM uses the widebands to automatically adjust fueling and the car runs right on target commanded air/fuel ratio.
Installation is simple and can be done with basic hand tools in less than one hour:
1. Pop the hood.
2. Move the keys at least 50 feet away from the car.
3. Unplug both MAF sensors.
4. Use a T20 Torx driver to remove the four screws holding the MAF sensors in place
5. Remove both MAF sensors.
6. Use Phillips screwdriver to remove all eleven screws holding the intake lid in place. Don't miss the center screw!
7. Remove OEM intake lid.
8. Replace air filters if desired.
9. Install new Tapout carbon fiber intake lid, reusing ten of the original eleven mounting screws.
10. Install both MAF sensors, using new button head machine screws provided by Tapout and a 2.5 mm. Allen wrench.
11. Plug in MAF sensors.
12. If you're currently running JB4, subtract 10% from all Fuel Bias settings. In order to check and/or edit the fuel bias settings, click on SETTINGS, then USER ADJUSTMENT.
13. Enjoy!
2022 CT4-V Blackwing M6 on 93-octane: stock (red lines) versus Tapout intake (blue lines) versus intake with Tapout custom JB4 tune (green lines)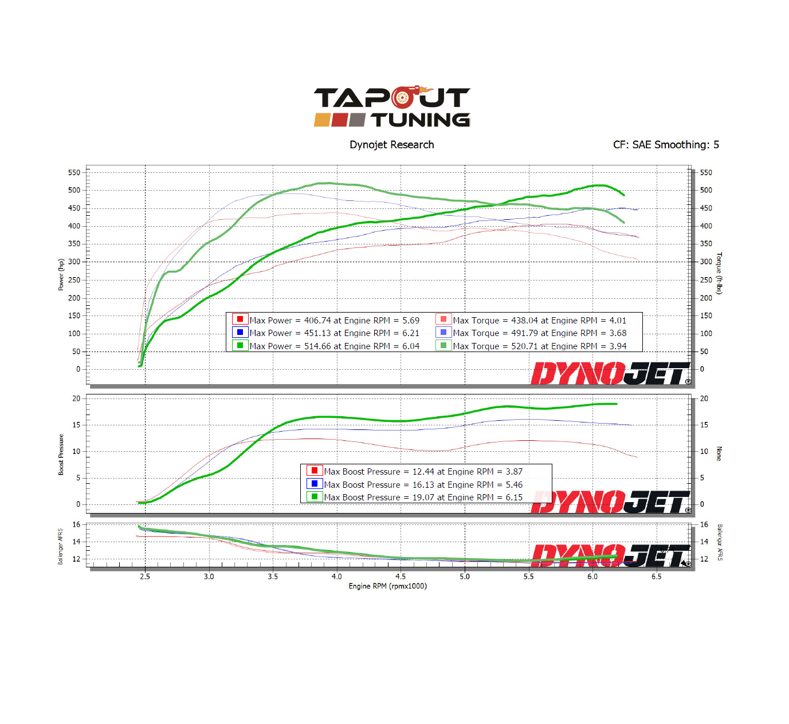 2022 CT4-V Blackwing M6 on 93-octane: stock (red lines) versus Tapout intake (blue lines)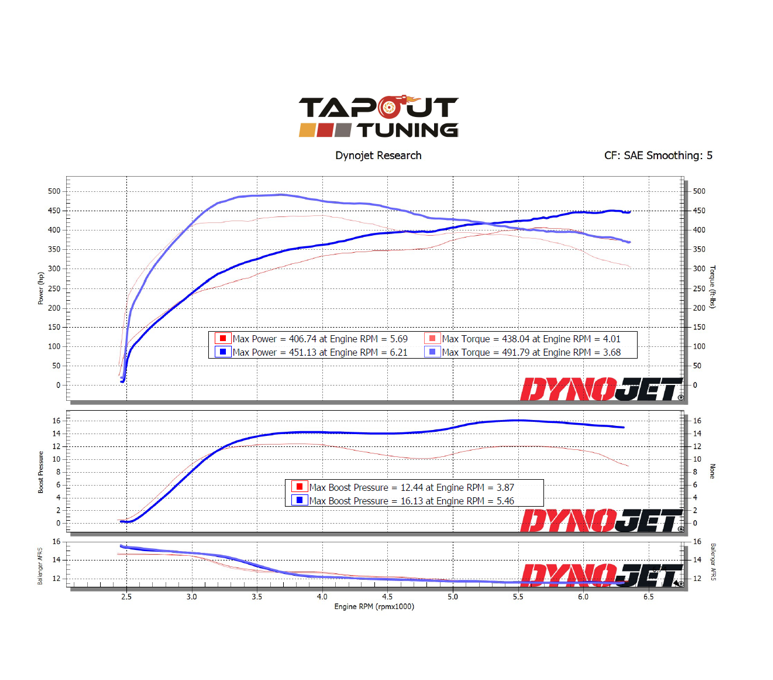 Testimonials
The Tapout Tuning carbon fiber airbox is on point! I can't believe it makes it so much faster. Incredible!
– Jack in North Carolina